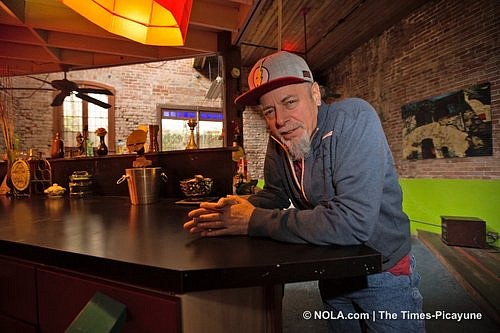 Artist James Michalopoulos Transforms an Older Brewery Space Into a Topsy-turvy Funhouse
January 26, 2019 - Keith Marshall, New Orleans Home & Garden, March 2017
Michalopoulos, in effect, lives in the ultimate three-dimensional incarnation of his pulsating paintings -- all slanted windows, tilted horizons and vivid colors.
It's hard to miss the strikingly unconventional residence of artist James Michalopoulos. Just off Frenchmen Street in the Marigny, the facade of the one-time commercial structure is an industrial confection of trompe l'oeil elements, from wooden shapes that mimic structural bolts to blocks of bold colors suggesting the solidity of stone.
A native of Pittsburg, Michalopoulos has become one of New Orleans' most well-known artists. A new exhibit of his work opened this week at the Ogden Museum of Southern Art. The 30-year retrospective show traces Michalopoulos' career from his days selling paintings hung on the fences of Pirates Alley to now, when his work is in the permanent collections of the Ogden Museum of Southern Art, the Louisiana Governor's Mansion and the New Orleans Museum of Art and in the corporate collections of Universal Studios, Chevrolet Motor Corp., the Chrysler Corp. and Northwest Airlines, among others. He even has a piece of sculpture on Veterans Memorial Boulevard in Metairie, sharing place of honor with artist George Rodrigue's Blue Dogs.
But there's nothing in Michalopoulos' oeuvre more dramatic than the interior of his home. It's a space that once was, in essence, a large refrigerated cavern where Columbia Brewery, an business once located across the street, stored its kegs of beer.
"It was this miserable, awful space," Michalopoulos recalled of his first encounter with the building in 1990. "By that time, there was a grimy restaurant in the front. I asked myself what it possibly could be doing in here and walked out."
But there was something about the space, the mess, the clutter that drew him back, like a strange energy.
"The owner took a number of painting as down payment -- six or eight, I think," Michalopoulos said. "He wanted to sell (the building) because it looked like it was going to fall down."
It took almost nine months to clear out the remnants of the building's past, including floors covered with 12 inches of cork and topped with concrete to keep the interior at a beer-chilling temperature. The walls sported similar covering, stained by water that poured through the porous roof.
Michalopoulos took things a day at a time, pulling out beams and recrafting the interior into a three-level, hall-of-mirrors distortion of reality.
"I can do it one step at a time. Have fun, be creative," he told himself. "Let's just roll with it. ... I just kept adding one thing after another.
"I'd run out of junk to add," the artist continued, "so I'd have to hit the streets to find more stuff that I could use to finish the spaces. And when I needed major things, I'd sell a painting and head to the hardware store."
This nothing-is-too-common-to-turn-into-art philosophy is evident in the former restaurant space, where light, streaming through plate-glass windows, illuminates a boldly colorful curving wall of shapes that evokes both Pop Art and Cubism.
The wall defines the back of the primary bedroom, a dark, cavernous space entered through a tall doorway in the adjacent main living area. Egyptian, Masonic and Native American forms surround the doorway in the expansive living area, where a variety of floors levels, formed by selectively removing cork and concrete and adding an angular intermediate level, visually abut each other like shifting tectonic plates.
"I think everything vibrates," Michalopoulos said while making quivering motions with one hand. "And everything here swings. There is a particular force here in this town that resonates through everything, the air, the water, the buildings themselves.
"There also is something about southern Louisiana where nature is in a constant state of evolution. It is merciless, relentless, volatile. If you pay attention," he said, "you can feel it."
Does he ever feel disoriented in these dizzying spaces?
"After a while, even in the dark, I have a kind of intuition, a certitude of where I'm walking," he said.
A colorful kitchen, lined with chrome shelving sporting a melange of New Orleans brands, seems to appear out of nowhere; and an adjacent powder room, entered through double doors that interlock like a puzzle, features walls with swirls of color.
A tile mural that lines a short staircase brings a touch of nature into the harsh angles. At the first landing, a door leads into a small bedroom that evokes Van Gogh's "Bedroom in Arles."
Chain-link fencing and colored wire define stairways and the mezzanine levels, where a jazzy Michalopoulos 3-D house facade hovers against a towering brick wall.
"This is probably the world's only see-through bathroom," the artist said as he pointed to a leaning structure made of translucent waffle-surface fiberglass panels. Guests enter through a narrow doorway to find a sink just above floor level with a ledge in front, mimicking a traditional prie-dieu.
"Cleanliness is next to godliness," Michalopoulos said with a smile.
Another staircase leads to a spacious bedroom where sharply angled roof beams serve as a foil to a deconstructed chest of drawers that seems to be supported by red-and-yellow bolts of lightning coming through the roof.
Terminating the upward spiral of the house is a roof terrace where empty wine bottles rest in the metal squiggles of a box-spring mattress stripped of fabric. The impromptu sculpture seems perfectly at home near a rusting and non-functional air-conditioning compressor, just another part of the pulsating, ever-changing world of James Michalopoulos.
Waltzing the Muse: The Paintings of James Michalopoulos
What: A 30-year retrospective of the artist's work at the Ogden Museum of Southern Art.
When: The exhibit opened March 1. The opening reception is March 11, 6-8 p.m. The exhibit will be on display through July 16.
Details: ogdenmuseum.org
Back to Press