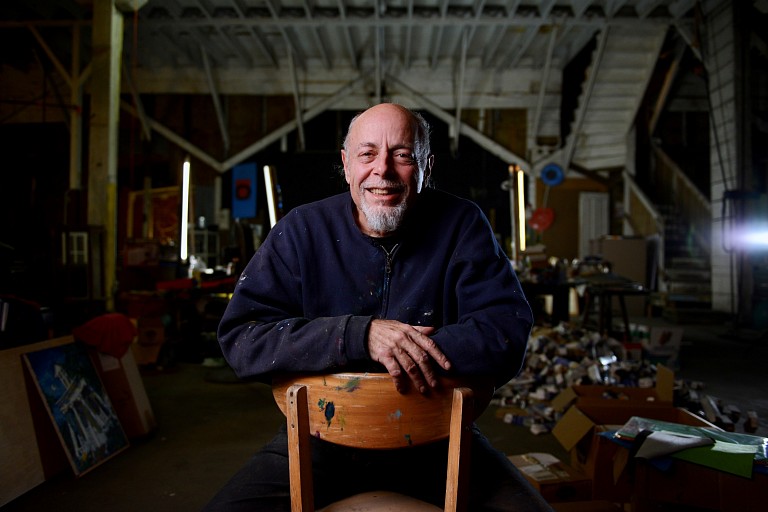 The Indescribable Wow
June 30, 2000 - Rich Collins, Gambit New Orleans July 1995
by Rich Collins
Gambit, 1995
James Michalopoulos is seriously out of breath. It's 5:30 p.m. on a Wednesday evening, and the painter is finally able to break away from the action at his Chartres Street studio for an interview.
You'll have to forgive Michalopoulos for gasping for air, though, because these days he is one of the busiest artists in New Orleans.
Michalopoulos runs three different galleries – his studio in Marigny, a gallery at 617 Bienville St. in the French Quarter, and a new crafts space called Plein Air at 405 N. Columbia St., in Covington. In addition to these duties, he still keeps an active painting schedule (he has a rep for creating a canvas a day.)
Since last fall, Michalopoulos has been regularly jetting back and forth from New Orleans to Los Angeles in his role as art director for House of Blues Productions. He leads a team of roughly 10 artists and designers who create sets for the Live from the House of Blues cable TV specials.
And to think, a few years ago, James Michalopoulos was just "painting houses."
Michalopoulos has been working the local art scene for 16 years, after moving here from the New York-Connecticut area. Over the years he has developed a large group of local and international patrons who have fallen in love with his trademark colorful, rock 'n' roll renderings of New Orleans architecture.
Treated by Michalopoulos' brush, the already magical homes of the Irish Channel, French Quarter and Faubourg Marigny gain new charms. Porches dance and balconies swing beneath a magical moonglow that transforms old facades into parties without people. Whether it's due to the sweltering heat or New Orleans' undeniable rhythm, these houses have a pleasingly warped, fish-eye lens appearance, and their ironwork, shutters and Greek Revival columns all take on a glorious swooning quality.
It's these houses that caught everyone's attention when they were hanging at Louisiana Pizza Kitchen a few years ago. It's these houses that you could find Michalopoulos selling outside of Hoolihan's on Bourbon Street. And it's these houses that have been collected by fans Sharon Stone, Emmylou Harris, Robert Olen Butler and others. These houses are making a lot of early collectors smile, too, knowing that the original they bought for $250 two years ago is now selling for $1,000.
Michalopoulos estimates that he's probably created 2,000 of his famous facades over the years, and his approach to the subject has steadily evolved from the early days.
"For many years," says the artist, "I would only paint New Orleans buildings on site. I had a Vespa motor scooter with an easel on it, lights on it – a carafe of wine and coffee – everything I needed. I would cruise around until I found Something I liked, then pull over, flop up on the easel and I would be set for the whole night."
As time went on, Michalopoulos began to work less on the street and more with photographs, sketches, and memory.
Now, a crammed schedule is an obstacle to getting out on the streets. These days, Michalopoulos is more likely to be hopping on a jumbo jet to Los Angeles so that he can design sets for Hootie & the Blowfish, George Thorogood & the Destroyers, Public Enemy and many others. House of Blues exec Michael Murphy and othesr involved with the concert series were Michalopoulos collectors, so when the idea came up to mix art with music on the show, Michalopoulos' name was high on the list.
"Michael came to me and asked me what I thought," says Michalopoulos, "and I said, 'Let's give it a try.' And basically we took it from there. We solicit all the information about the bands, get their latest CDs and we try to get a sense of what's important to them, and then we construct a set that we think is supportive of their work."
For a recent Chieftains show at the Los Angeles HOB, Michalopoulos and crew created a set that included an Irish castle, replete with turrets, towers and windows. The shows are mostly taped at the Los Angeles club, but the sets are primarily constructed here in New Orleans and shipped out.
Michalopoulos admits he doesn't have as much time as he'd like to keep up with his old painting-a-d reputation, although he still tries to get brush in hand as much as possible. Above all, he's keeping aware of the problems inherent in becoming too successful.
"I am very happy that people are OK with the fact that I'm successful and that they enjoy my work," says Michalopoulos, "but I think that there's a danger, and I think you have to watch out for that. There's a tendency to listen to commercial pressures and follow those, and while I have a certain commitment to well-being financially, I also recognize that a lot of times when you stay in a job because it pays well, there's an emotional cost."
Despite the many different hats he's wearing – and despite occasionally being out of breath from it all – James Michalopoulos is still a man who loves capturing the sweltering, rhythmic "wow" spirit of his adopted Hometown.
"I love to paint, and I spend as much time as I can at the easel," says Michalopoulos. "For me it's like eating."
BY RICH COLLINS
JAMES MICHALOPOULOS (b. 1951 , Pittsburgh)
After graduating from Bowdoin College and living in New England, James Michalopoulos adopted New Orleans as his home 17 years ago –the perfect city for his distinctive kinetic architectural studies. His expressionistic, gestural style is as energetic as it is colorful. Michalopoulos captures the lyric, unexpected pulse of his subjects with a widely admired verve that has led to his work being collected and exhibited throughout the United States and Europe.
His biographer describes the style as, "Giacometti meets Raphael, with a healthy nod to Thomas Hard Benton. Texture comes from the Fauvists or, perhaps, Van Gogh … Color comes from God and the Devil and the Dance of the Hours." He lays his paint on thickly, pushing it with a palette knife until it yields the desired result. All this can be seen in the vivid moon-lit French Quarter portrait of Dr. John: A perfect match of artist, subject and attitude.
Back to Press