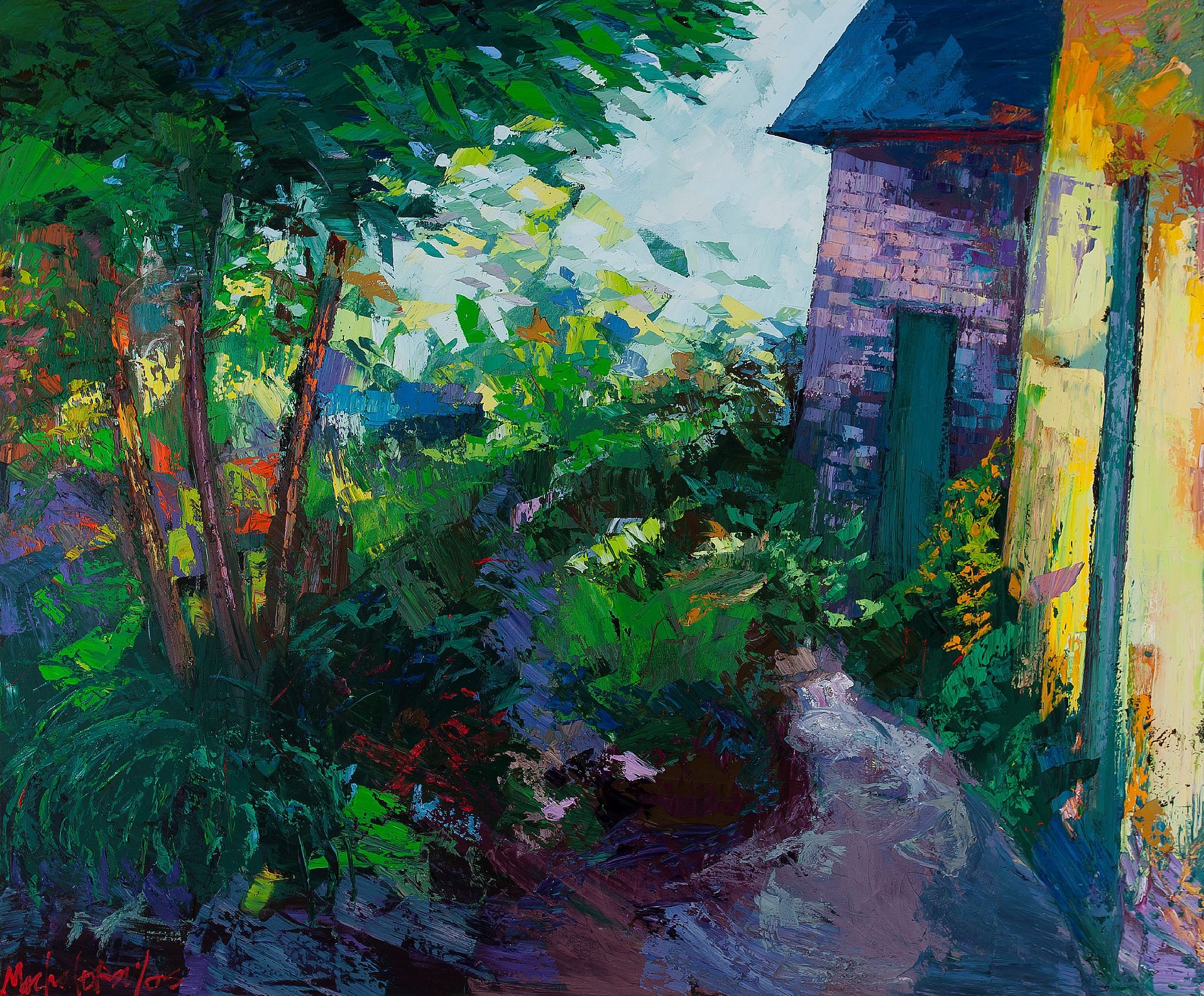 When I'm right in the middle of the tangle of woods there's a terrible complexity, a marvelous complexity that I love to tease a picture out of. It's not an easy go, It's an interesting thing–wIth me it's the way to get to the heart of the natural world. It's a way to really look at that almost molecular unfolding in the forest. You feel, if you can get it right, the profundity of nature–the incredible richness and variety. It's an amazing thing to be just in the middle of the perfusion of growth and then to be charged with teasing a painting out of it? And then to maintain the essence of it in that painting? I find it to be the biggest challenge I have in that regard. The challenge is to tease a painting from the chaos. Nature on its own is a chaotic unfolding. In the midst of a forest I try to discern a pattern, or an element. To illuminate–in fact eliminate. The issue is to tease. It's what you leave out rather than what you put in.
Louisiana–and New Orleans in particular, are burdened by their abundant gifts. Rich soil, endless sunshine, and quotidian showers–a foliage that enrobes, engulfs. We are everywhere fertile and effusive. Whoa be thou that foresaketh the forest for the trees. Forget not the sky and its clouds–the table and plates of your dinner. The sky holds the earth. This pungent pea-shaped earth floats in the blue wonderment protected and graced by a phalanx of cloud shapes, each dispatched to serve, protect or husband.
Occasionally I am recalled from my relentless nervous attention to worldly affairs. I am called to the clouds. There, I happily place my head. But, like every hot air balloon, sooner or later I return to earth.
-James Michalopoulos
For 25 years, Michalopoulos has painted and exhibited in Europe. Falling in love with the Mâconnais district in southern Burgundy, he bought a chateau in the small mountain village of Montagny-sur-Grosne. In the French countryside, Michalopoulos has become possessed by a more traditional muse – nature. His depiction of the French landscape is more abstracted, with a loose gesture and a strong focus on light and movement. [These paintings display] evanescent light and viscous pools of water framing sculptural trees in ebullient colors to form a dreamlike vision of nature, like a modernist interpretation of a Martin Johnson Heade landscape. Repeated gestures reference the repetitive forms of nature – as his circular marks of color speak of the vortex, the nautilus, the universe. With these works, we see with even greater clarity his layered, scraped and confident handling of paint.
-Bradley Sumrall, the Ogden Museum of Southern Art, Chief Curator